What is a Legacy Letter?
A Legacy Letter is a highly focused letter from the heart that captures a person's stories and transfers his or her wisdom. Legacy Letters enable people to pass on values, not just their valuables, to pass on what they have learned, not just what they have earned.
Click here to learn more.
What is a Priceless Conversation?
With a Priceless Conversation, we turn a simple chat into a touching and lasting treasure. Using a handful of interesting questions and a digital recorder, we help you share and save the lessons and experiences of your life or your loved ones.
Click here to learn more.
What is a Legacy Letter writing workshop?
A Legacy Letter writing workshop provides the tools and support you need to discover and reclaim your ancestral legacy and, at the same time, clarify your values and add a new purpose to your life.
Click here to learn more.
Click here to view upcoming workshops and presentations.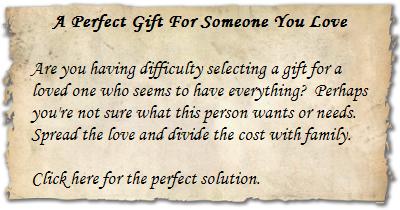 The Bridge Builder
BY WILL ALLEN DROMGOOLE
An old man, going a lone highway,
Came, at the evening, cold and gray,
To a chasm, vast, and deep, and wide,
Through which was flowing a sullen tide.

The old man crossed in the twilight dim;
The sullen stream had no fears for him;
But he turned, when safe on the other side,
And built a bridge to span the tide.

"Old man," said a fellow pilgrim, near,
"You are wasting strength with building here;
Your journey will end with the ending day;
You never again must pass this way;
You have crossed the chasm, deep and wide--
Why build you the bridge at the eventide?"

The builder lifted his old gray head:
"Good friend, in the path I have come," he said,
"There followeth after me today
A youth, whose feet must pass this way.

This chasm, that has been naught to me,
To that fair-haired youth may a pitfall be.
He, too, must cross in the twilight dim;
Good friend, I am building the bridge for him."
Build YOUR Bridge
Now is the time to build your legacy bridge - to affirm the importance of your life, and encourage your loved ones to do the same. EVERYONE has something valuable to share from life. There are a thousand excuses to procrastinate and become distracted. The good news is that we can help you accomplish this very important goal and make it fun, expedient and enlightening too. Our clients tell us that engaging in our legacy building tools is a profound and deeply satisfying experience.
Legacy building tools can strengthen relationships with family, clients, employees, donors, volunteers and board members. Pioneering estate planners, philanthropic professionals and other professionals in business and noprofit organizations are now integrating legacy building tools into their work and family life. We invite you to continue to explore the legacy building tools offered here and their many powerful applications.
---