Sneak Peek
Here are two featured excerpts from Soul of a Port:
The Sweetness and Tragedy of Old Memories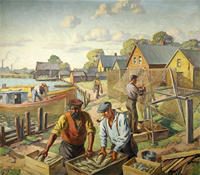 City leaders were confronted with a serious problem. The unending stream of coal ships up and down the Milwaukee River meant that the drawbridges on major thoroughfares like Wisconsin Avenue were constantly being raised, disrupting street traffic. "It was a disaster," says Reinelt.
City planners at that time sought a way to move all of that coal and transit out of the downtown inner harbor and away from street traffic, and they turned to Jones Island for the solution. At the time, Jones Island was a makeshift fishing village inhabited by the Kaszubes (pronounced kahshoobs), a western Slavic people who had emigrated from a Baltic island off the coast of Poland.
Read more in PDF format | Listen to the Author's Audio Excerpt
Man Overboard?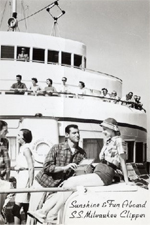 This next story was told by eighty-six-year-old Captain Robert Priefer, the last captain of the passenger steamship Milwaukee Clipper. Captain Priefer's father was the supplier of the provisions for the ship. He was the man who would go to the slaughterhouse on Fond du Lac Avenue and 27th Street in Milwaukee and select the very best cuts for prime rib, which was a specialty served on the Clipper. The prime rib was unsurpassed by any prime rib served in the city. It was not surprising to find out that when asked, Captain Priefer said that his favorite food on the Clipper was the prime rib.
He must have eaten a lot of it, because he started working for the Clipper's steward department in 1941 when he was just seventeen. He washed dishes and served food and eventually moved into the deck department. To become captain, as he put it, he came up the "hawse pipe," meaning that he climbed up the ship's rank without attending a traditional maritime academy. "The owners of the ship, Max and Mark Mckee, never cut any corners." says Priefer. "They served great food, breakfast, lunch and dinner."
Read more in PDF format | Listen to the Author's Audio Excerpt