About Soul of a Port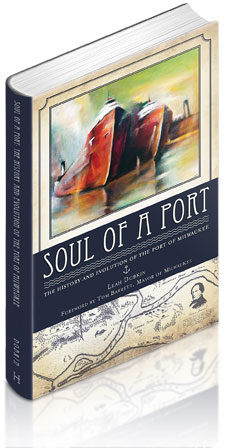 We live three blocks from Lake Michigan, yet I found myself driving inland to Iowa to pick up a dilapidated twenty-five-foot sailboat that my husband Tim bought off eBay. Who knew that there were lakes large enough in Iowa to accommodate a twenty-five-foot sailboat, but there are. The sailboat had tattered sails; strapped on the back was an old nine horsepower outboard motor on its last propeller. Tim was determined to fix the boat and learn how to sail. He succeeded to convert a mold-covered and spider-infested vessel into a boat that I would sail on with only slight trepidation.
More than once we found ourselves in the inner harbor with no wind and an uncooperative motor, requiring the assistance of strangers to tow us back to our mooring. Caribbean-looking water and beautiful blue skies contrasted with our red faces.
One day, both the wind and motor died, but before the boat could be rescued (once again), it gravitated toward a mammoth dock, ultimately pounding against its pilings. The dock, as it turned out, was part of the commercial Port of Milwaukee, and that my friends, is how I became curious about the port.
I wanted to learn more about the port, so I pitched a story idea about the port to Milwaukee Magazine and wrote a feature that was published in its February 2009 issue. I took an unconventional approach to researching the article. I hitchhiked on a 650-foot cargo ship through the Great Lakes to experience firsthand how the cargo arrived at the port; I even drove a sixty-foot crane that was strong enough to lift an elephant.
My most special time was "hanging out" at the port, talking to the hardworking, colorful characters who help make the port run. They were from all walks of life—longshoremen, crane operators, tugboat captains, the harbor master, pile drivers, the port director and a shipwreck hunter, to list just a few.
More than fifty people were interviewed, and I collected their stories and experiences and weaved them into the feature; ultimately, I expanded my research to create this book. I scoured over hundreds of documents, photographs and artwork, many never seen publically before.
Many of the documents are listed in the bibliography. Some were obscure newspaper articles almost a hundred years old, eviction notices given to Kashube families living on Jones Island and other historical documents. Other, more modern documents were from tenants and their businesses and from port administrators.
All of the sources helped put the pieces of the puzzle together to answer five important questions: What really goes on at the port? What makes Milwaukee's port special? How has the port adapted to changing times? Why is the port important to you and me—and what is the port's future?
I am a Milwaukee County resident who happens to be an inquisitive person and a writer. I am not a historian, and this is not a history book about the Port of Milwaukee, although interesting history is included in the book. The book is more a collection of stories and information about the port, the people who work at the port and how the port has evolved over time.
The book can be read sequentially, from part to part, or you can select the parts that interest you. If you are a business person or government employee who wants to learn how a struggling government-run entity, such as the Port of Milwaukee, turned itself around by embracing business savvy, go to chapter IX. Perhaps you are intrigued with how the port is becoming environmentally sustainable and adopting a variety of clean alternative fuels as its newest cargo niche. The greening of the Port of Milwaukee is also in Chapter IX. Maybe you are interested in shipwrecks and ghost stories; then go to Chapter VIII.
There is something for almost everyone, and you don't have to be from Milwaukee to enjoy the book. My favorite sections are the ones with the wonderful stories people told to me about the port, often funny and sometimes tragic. Through these interviews, I not only obtained answers to my five burning questions, but I also learned about a whole new world that I did not know existed and had an impact on my daily life. I have gained a new appreciation for the effort that goes into how our buildings and roads are built and maintained, where our energy comes from and all the behind-the-scenes raw ingredients that make up our economy and promote our prosperity.
My sincere hope is that you decide to read the book cover to cover. If you do, you will then better understand my journey and also gain a deeper appreciation and understanding of what makes Milwaukee tick and all the hard work of current and yesteryear Milwaukeeans who made this place so special.
Below are the table of contents, so you can get an idea of the breath of topics covered in the book.
Contents
Foreword, by Mayor Tom Barrett 9
Preface 11
Acknowledgements 15

Part I. Milwaukee's Best-Kept Secret
Getting Acquainted 17
Not Your Ordinary Port 23
Honest Ethics, Highest Values 23
Unparalleled Cooperation 24

Part II. Meeting Place by the Water
The "Berth" of the Port 27
The Wheat Connection 34
The Sweetness and Tragedy of Old Memories 36

Part III. A Twentieth-Century Port
Staying On Their Toes 43
Milwaukee's Foundation for Foundations 46
Hibernating Giants 49
Size Counts 52
Sewer Socialists: Thinking Outside the Pipe 53
Good Bugs 55
Historic Place Pushes the "Green" Envelope 56

Part IV. And Away We Go: Milwaukee Ferries
A Whale of a Time 57
"The Queen of the Great Lakes" 59
"Rails Across the Water" 64
Full-Speed Ahead 66
Running a Tight Ship on a Fast Track 69

Part V. Heavy-Duty Lifting and Pulling
Crane Operators 71
Longshoremen 74
The Smell that Could Send You Packing 78
Can You Dig It? 81
Feathers Never Ruffled 83
Industrial Artisans 83
Meeting a Global Demand 85 Working the Wheel 85

Part VI. Intermodal in Action
Complicated Logistics 90
Moving Vital Commodities 92
Salt of the Earth 95

Part VII. Peeking through the Porthole of the Federal Yukon 101

Part VIII. Sunken Ships, Ghosts and Rescues
Shipwrecks 107
The Mud Puppy 109
Ghost Tales 112
Rescues 114
Man Overboard? 116
Water Rodeo 118

Part IX. Steering the Port in a New Direction
Culture Change 121
Energy Shifts: The New Fuel in Town 127
Shifting Winds 130
Eye of the Wind: The Port's Future 131
Bibliography 133
Resources 141
About the Author 143